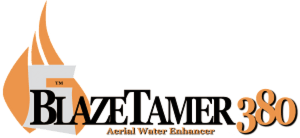 BioCentral Laboratories Ltd is one of Australia's leading manufacturing and marketer of applied science of Polyacrylamide (PAM) products. Our polymer blends are specifically designed to enhance performance, improve productivity and substantially reduce the amount of water required in specific applications.
BLAZETAMER380™ is an elastomer designed to increase the efficiency of water for direct attack of Class A Fire Suppression.
When BLAZETAMER380™ is injected into water it binds water molecules together much the same as links in the chain, without changing its weight. It is not designed to adhere to vertical fuels, but rather after making contact, it coats the surface as it works its way through the canopy to reach ground fuels.
BLAZETAMER380™ has USDA Forest Service accreditation, is non-toxic, non-hazardous and non-corrosive.BLAZETAMER380 guarantees safe handling for firefighters and is proven harmless to humans, animals and vegetation.
Address
22-24 Phillips Street
Thebarton
Australia
5031
Australia